Business cards and stationery
specialists
Your business card is one of the first bits of marketing material that many of your clients are likely to receive.
Impress from the moment you hand over your card
We make the entire process of your company's business card printing easy. We can print existing business cards to a high quality finish or we can help you create a unique design of your own.
Our expert team understand that your business card is a representation of your company's image, which is why it's important to create an impressive business card that stands out to your future clients.
Our team will work closely with your company throughout the entire business card printing process to ensure that you're completely happy with the end result!
Once we've completed your business card printing, we will deliver your new impressive business cards right to your company's door step. So you won't even have to leave the office!
Plus we can add your template to our Online Ordering portal so that you can populate your information and order directly.
Discover how we can help bring your business cards to life
Let us help communicate your business from design, right through to delivery.
Business Card Printing at the touch of a button
We can set your business card printing up on our Online Ordering system. It allows ordering of templated products, drawing down on warehoused stock and ordering printed items.
Save time and cost
Our online system allows you and your team to log in to the web based platform, input your details into the template, view a proof in real time and order your business cards. This saves time and money associated with design and waiting for proofs.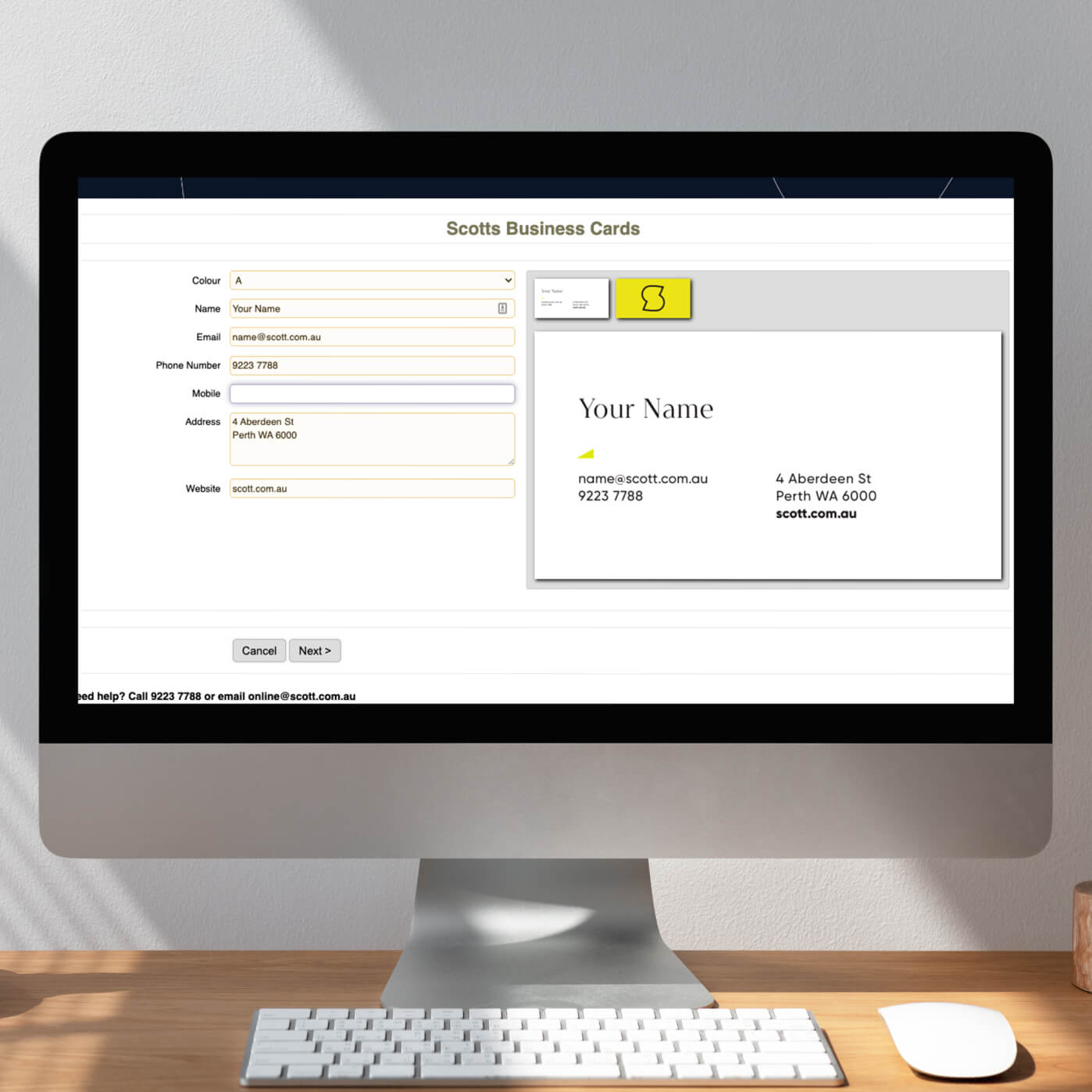 Frequently asked questions
What's the difference between digital and offset printing?
As a general rule, larger quantities are more suited to offset printing and smaller quantities that are needed in a faster turnaround suit digital printing. Of course there are exceptions to the rule, talk to your Scotts representative to work out what is right for you.
How does Scotts offer high quality printing?
We have the latest in printing technology and innovation at our world class facilities, offering clients high quality printing and exceptional finished products to international ISO9001 Quality, ISO14001 Environmental and ISO12647 Colour standards.
Does Scotts consider environmental printing practices for sustainability?
In choosing Scotts for your next project, you are choosing a printer with environmental printing practices aimed at maximising the sustainability of our environment. All production takes place under Scotts' Environmental Printing Management System in line with 'Process Green' Printing.
Does Scotts only do large volume print solutions?
No, Scotts can print a few copies or millions. The Scotts digital printing service caters for smaller quantities (1 – 100 copies) or urgent projects, while offset printing provides cost effective large scale print solutions.
How do I know my colour will be consistent?
Scotts is a colour proficient printer to international ISO 12647 standards, this means from job to job, press to press and week to week, the colour will be more consistent.
Where can I print documents in Perth?
Scotts are located near the Perth CBD, at 4 Aberdeen Street. We offer design, digital printing, offset printing, signage and delivery, so if you need to print documents Perth, we're here to help!