Award-
Winning


Offset Printing

Ideal for large projects where you need quick, cost-effective production and premium quality, Scotts offset printing in Perth is the choice for specialised printing projects.
The choice for specialised printing projects.
Offset printing, the traditional printing process, is a top choice when printing large quantities or complex print materials.
Using full colour (CMYK), special colours (PMS), coatings and varnish inks, this high quality printing process offers tremendous options and cost savings.
With our state-of-the-art Komori print technology, international colour standards and award-winning team, you'll tap into a world-class approach to offset printing in Perth.
Plus, since we offer both offset printing and digital printing services, we can tailor our offerings to your specific needs, budget and deadline.
Enjoy premium colour consistency and accuracy, friendly service and cost-effective printing each and every time you partner with Scotts fo printing in Perth.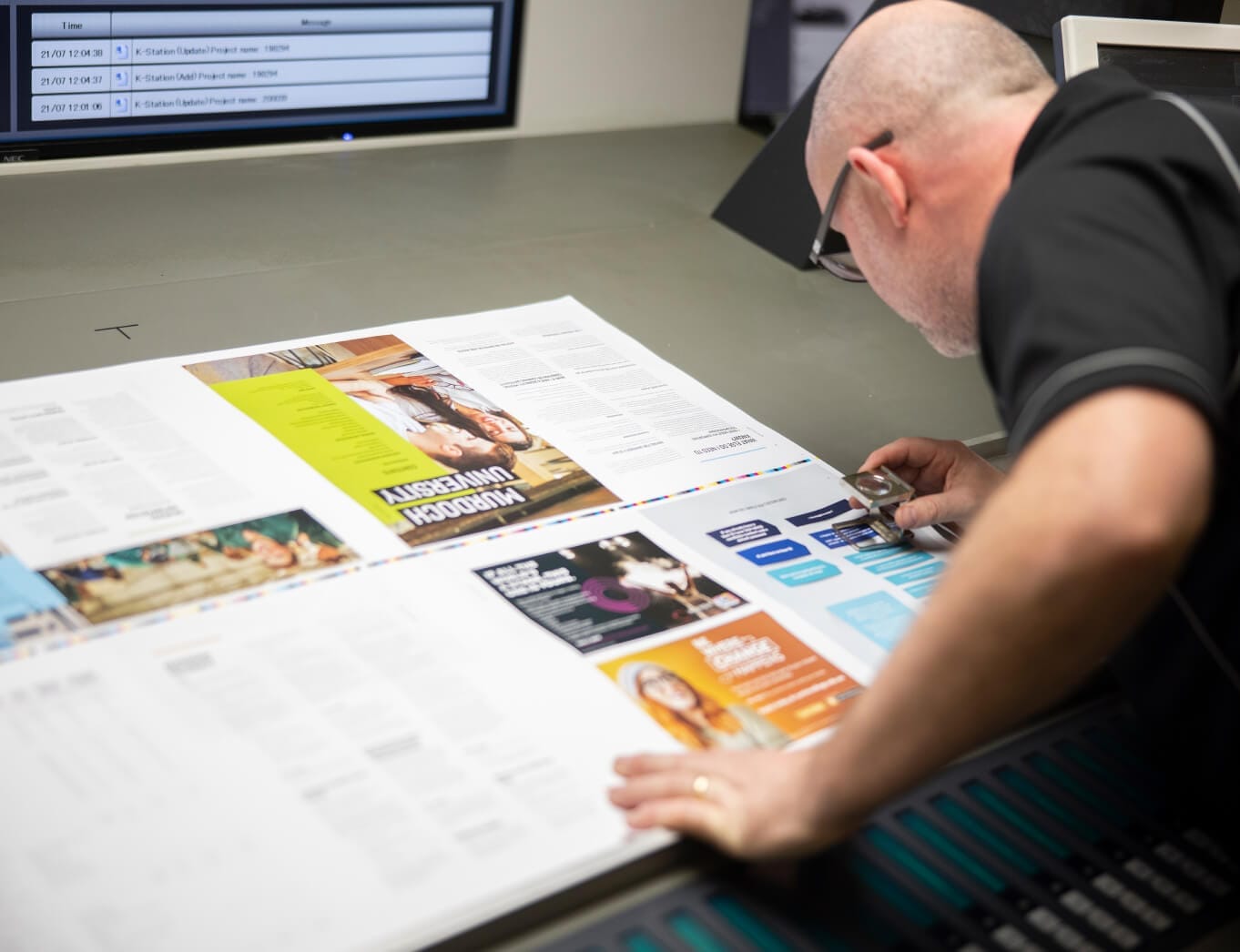 Discover how we can help bring your offset to life
Top choice when printing large quantities or complex materials.
Experience is the difference
Here's why Offset print can help you:
Perfect for longer runs and high-quality pieces
Offset printing offers a superior print solution and in-line print finishes, ideal for projects that require a high-quality finish or for medium to large print runs.
Fast production, instant drying
With traditional offset printing, inks take days to dry, slowing down production. However, our HUV press cures the inks instantly so you can receive your finished product faster than ever before.
Recognised print industry leaders
Scotts is proud to be Perth and WA's leading print provider and the first printer in the state accredited with International Colour, Environmental and Quality Standards. You can trust that your colour will be consistent from one piece of collateral to the next, your quality will be exceptional throughout, and your environmental impact is reduced.
Cutting-edge technology and award-winning quality
For premium quality, speed and cost-effectiveness, we use state-of-the-art machinery and are the most awarded WA printer at State, National and International level. Every year we work hard to maintain our ISO9001 Quality Management certification, meaning we have measures in place throughout our company to ensure we continue to offer world-class solutions.
We care about the environment
We're the most environmentally recognised printer in the State, holding certifications for using paper from sustainably managed forests and eco-friendly printing practices. Plus, you can let your stakeholders know that you have considered the environment in your production, by using the internationally recognised FSC logo on your printing.
Frequently asked questions
What's the difference between digital and offset printing?
As a general rule, larger quantities are more suited to offset printing and smaller quantities that are needed in a faster turnaround suit digital printing. Of course there are exceptions to the rule, talk to your Scotts representative to work out what is right for you.
How does Scotts offer high quality printing?
We have the latest in printing technology and innovation at our world class facilities, offering clients high quality printing and exceptional finished products to international ISO9001 Quality, ISO14001 Environmental and ISO12647 Colour standards.
Does Scotts consider environmental printing practices for sustainability?
In choosing Scotts for your next project, you are choosing a printer with environmental printing practices aimed at maximising the sustainability of our environment. All production takes place under Scotts' Environmental Printing Management System in line with 'Process Green' Printing.
Does Scotts only do large volume print solutions?
No, Scotts can print a few copies or millions. The Scotts digital printing service caters for smaller quantities (1 – 100 copies) or urgent projects, while offset printing provides cost effective large scale print solutions.
How do I know my colour will be consistent?
Scotts is a colour proficient printer to international ISO 12647 standards, this means from job to job, press to press and week to week, the colour will be more consistent.
Where can I print documents in Perth?
Scotts are located near the Perth CBD, at 4 Aberdeen Street. We offer design, digital printing, offset printing, signage and delivery, so if you need to print documents Perth, we're here to help!