Large Format is a Transformative
Solution
Stand out from the crowd with large format printing and signage printing from Scotts and enjoy some of the most cost-effective, eye-catching advertising out there.
Large Format Printing helps you stand out from the crowd.
Large format printing is a transformative advertising solution. Large prints can completely change the look of products and spaces, from a room, wall or car, right through to a surfboard!
As part of our full communications package, Scotts offer everything in one place, from design, through to print and installation. This means you have one Account Manager you can count on and contact throughout the whole process.
The affordable cost of large format printing and the result and speed at which it can be done means that this is a great creative solution that works well beyond advertising. It gives you scope to think outside the box, where you can use this format of printing for wallpaper, to cover a table or for exhibition displays. At Scotts, we're always looking to push the boundaries of large format poster and banner printing in Perth.
From posters, pull-up banners, coreflute and window decals, through to car wraps and wallpapers, we offer a full range of stock options, so you're covered no matter what you need.
Discover how we can help bring your signage to life
Large prints can completely change the look of products and spaces
Experience is the difference
Here's why Large Format print can help you:
Make a difference
Turn a room, storefront or car into an advertising channel with the help of our large format printing services.
Full service large format printing, all in one place
Providing everything you need, all in one convenient location. We're your one-stop-printing-shop with design, copywriting, production and delivery, all in-house.
Eye-catching colours and finishes
Offering an extensive range of colours, our large format printing and signage printing now includes metallics, whites and brights, helping your projects stand out even more!
For an original, cost-efficient solution, Scotts large format printing works well beyond advertising. It can be used for a range of creative outlets including wallpaper, covering a table, or exhibition displays. Whatever you can dream up, we can execute.
A huge range of options
From signage and poster printing, to pull-up banners and car decals, we offer a full range of stock options, so you're covered no matter what you need.
Get your brand out there
Use large format printing to give your business a massive competitive advantage. The sky's the limit!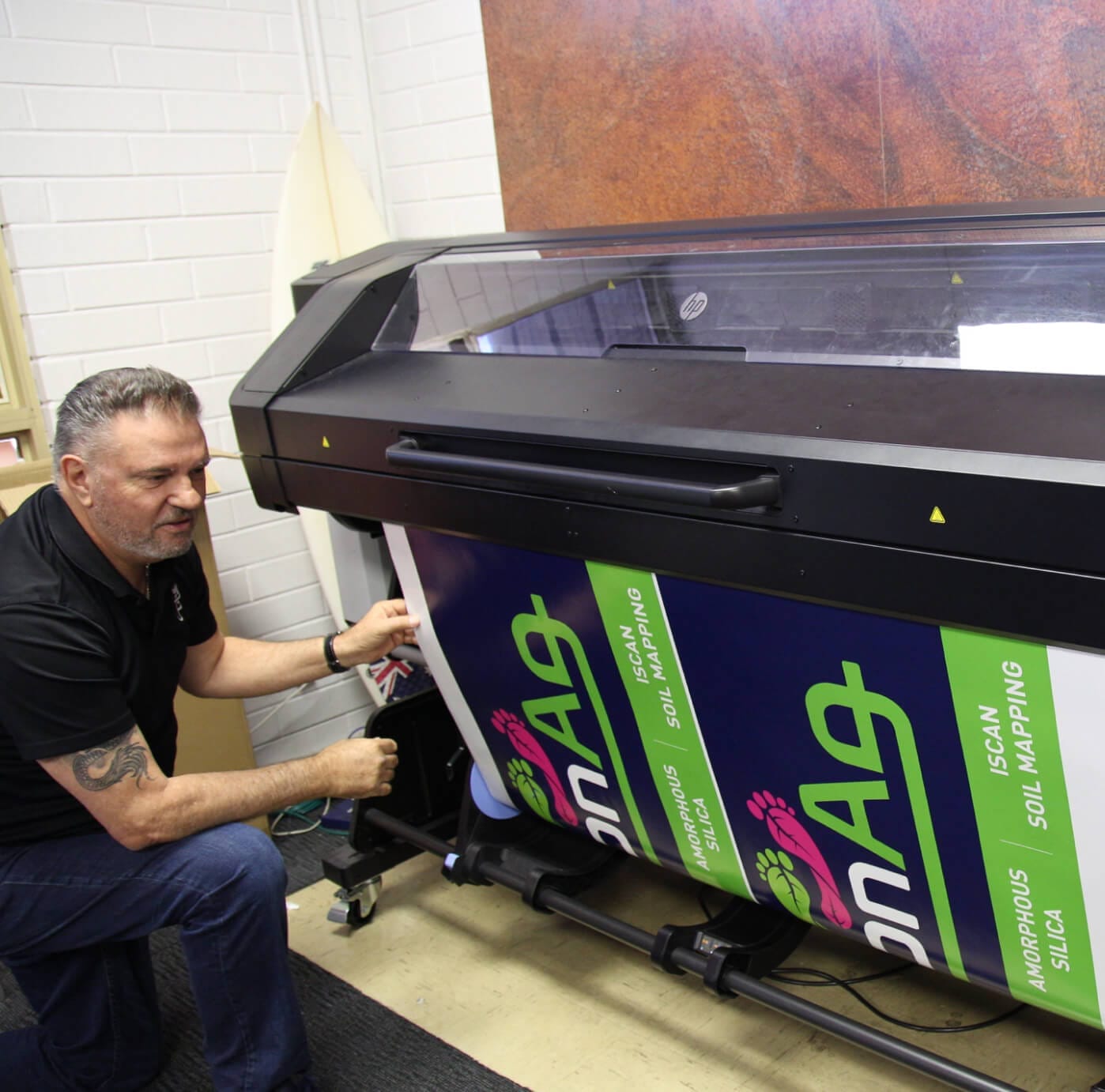 Frequently asked questions
What's the difference between digital and offset printing?
As a general rule, larger quantities are more suited to offset printing and smaller quantities that are needed in a faster turnaround suit digital printing. Of course there are exceptions to the rule, talk to your Scotts representative to work out what is right for you.
How does Scotts offer high quality printing?
We have the latest in printing technology and innovation at our world class facilities, offering clients high quality printing and exceptional finished products to international ISO9001 Quality, ISO14001 Environmental and ISO12647 Colour standards.
Does Scotts consider environmental printing practices for sustainability?
In choosing Scotts for your next project, you are choosing a printer with environmental printing practices aimed at maximising the sustainability of our environment. All production takes place under Scotts' Environmental Printing Management System in line with 'Process Green' Printing.
Does Scotts only do large volume print solutions?
No, Scotts can print a few copies or millions. The Scotts digital printing service caters for smaller quantities (1 – 100 copies) or urgent projects, while offset printing provides cost effective large scale print solutions.
How do I know my colour will be consistent?
Scotts is a colour proficient printer to international ISO 12647 standards, this means from job to job, press to press and week to week, the colour will be more consistent.
Where can I print documents in Perth?
Scotts are located near the Perth CBD, at 4 Aberdeen Street. We offer design, digital printing, offset printing, signage and delivery, so if you need to print documents Perth, we're here to help!